Professional Wood Deck Builders in Calgary
Did you know that Calgary is one of the sunniest cities in Canada? With about 2,400 hours of sunshine each year, we live in a great place to hang out on your back deck and enjoy the nice weather – and there's no better way to get that authentic, relaxed feel than with a beautiful wooden deck in your yard.
We've built decks all over Calgary, from Springbank to Sage Hill to Seton, and we can say with total confidence that wooden decks are always in style. Once you've got the right one for yourself, you'll quickly see why they've been a top choice for homeowners for decades.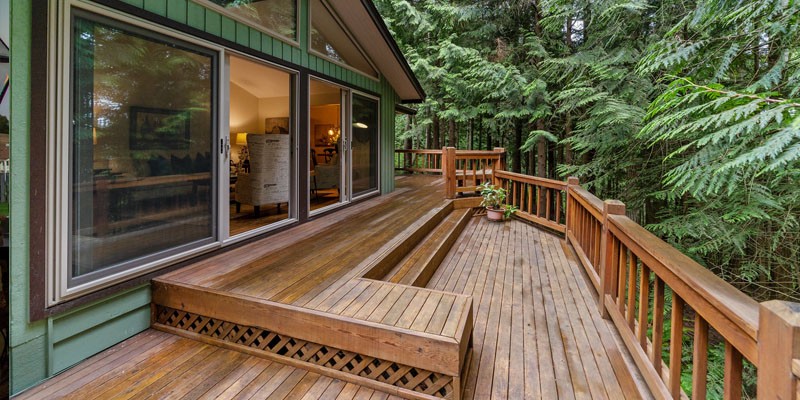 Frequently Asked Questions about Wood Decks
Finding the right information for your wood deck build can be tricky, so here's what you should know.
What is wood deck material? What kind of wood is used?
The majority of wooden decks you see are built out of two types of wood, usually chosen based on whether you want to stain or paint the boards when it is finished.
Cedar Wooden Decks

Cedar is a popular choice for Calgary homeowners, with its light natural colouration and rich grain patterns. Because of its light colour and high absorbency, people choose cedar when they want to stain a wood deck to their desired shade – whether that's transparent, semi-solid, or solid stain. This allows the grain and natural beauty to show through, while still offering protection from weather and insect damage.

Pressure-treated Wood Decks

Pressure-treated wood is a material made of SPF (spruce, pine, fir) that has been put through a high-pressure process to strengthen it. As it affects the wood and the way it looks, it is much more difficult to stain and often does not get the same results. To boost wood deck protection when building with SPF materials, most people cover it with paint or wood deck sealer to lock out moisture.
Of course, you can choose other woods if you like, but they will be more expensive and harder to get.
What does a wood deck cost?
This is a hard question to answer accurately, as many different factors affect the final price. Everything from the size of the deck and the number of railings and spindles to the complexity of the design, the difficulty of the terrain, and the choice of wood material plays a part.
On average, a 16' x 10' treated wood deck is between $4,000 – $6,000, while the same size in cedar costs a bit more, between $5,000 – $7,000. (These are guidelines only, though, for the factors mentioned above and others.) 
Note that wooden decks are a bit cheaper because they require more maintenance than composite materials, and are more prone to water and insect damage, staining, and cracking. What you save on the initial installation, you may have to spend on regular paint jobs, cleaning, and repairs.
Is there a special wood deck treatment?
Does a wooden deck coating really offer that much extra protection? While there is no single, particular "correct" way to make your new deck last, there are some things you should definitely do for long-term wooden deck waterproofing and protection.
Use sealant, stain, or paint: while not created equal, each protective layer has its own pros and cons. Sealants are intended to keep moisture out, but they aren't usually tinted and offer little UV protection. Stains do better with that, at the cost of less waterproofing potential. And paint can do both, but won't last as long as the others. Choose what's best for you, even before your wood deck is installed.
Prep and clean the surface properly when doing maintenance: leaving dirt, debris, or water on the surface of your pristine wooden deck while treating it is a good way to cut its lifespan in half. Always clean and prep, with ample time to dry before applying more products.
Do it frequently: wooden decks require maintenance and touch-ups, if not a full sanding and redo, every year or two. Water can get in to even the smallest cracks – like joints or nail holes – and cause damage over a single season, so the right treatment at regular intervals is crucial to keeping your wood deck looking good.
Do I need a wooden deck contractor?
You may be handy with tools and feeling good about your abilities, but when it comes to wood deck installation, it's best to leave it to the pros. For one thing, wood is heavy; you need the right foundations, reinforcement at high-stress areas, and weight distribution to make a wood deck safe, especially if it's above ground. For another, building any addition to a Calgary property – from heritage homes along Memorial Drive to brand-new homes on the outskirts of Cougar Ridge – requires the right permits and approvals from the city. Failure to have that could result in fines, difficulty selling your home, or removal of anything you've built.
Building Wooden Decks in Calgary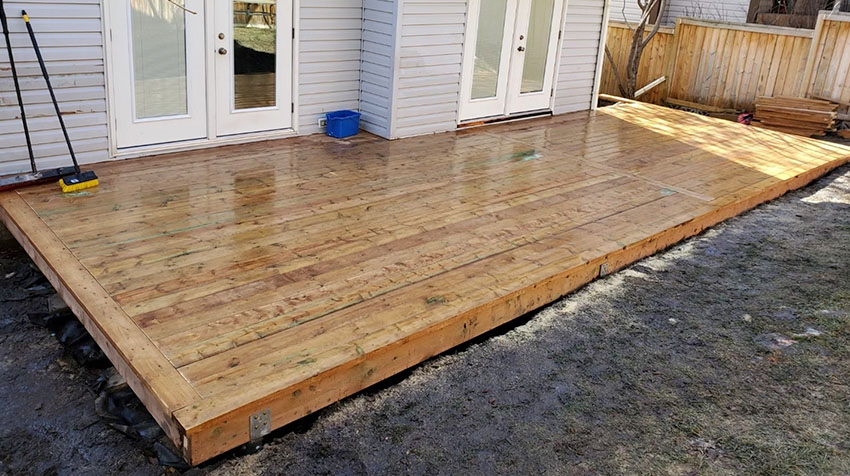 Avoid the headaches and call the company that's got more than 20 years of experience building wooden decks for Calgarians. Whatever questions you may have about wood deck installation, prices, durability, or maintenance, we'll help you plan and execute your vision for your yard. Before you know it, you'll be on a new deck of your very own, enjoying some of Calgary's many sunshine hours!